Jeff K Bio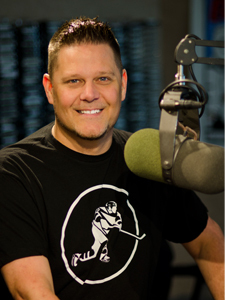 I'm currently the Afternoon Host on Classic Rocker Lonestar 92.5, as well as Production Director for iHeartMedia Dallas. I'm the Public Address Announcer for the Dallas Stars Hockey Club. I've been with the Stars since 2005, first as Music Director, then In-Game Host, and now PA. I'm also the newly appointed PA Announcer for the Dallas Cowboys. Prior to this season I handled In-Stadium Host duties. 2019 marks my eight season with America's Team.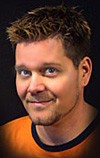 Tracing the history of nearly three decades in the business, lets start from the most recent and work our way back. From 2007 to 2014 I worked on-air weekends at KDGE 102.1 The Edge, where I was the host of Old School Edge, as well as acting Production Manager for Clear Channel / iHeartMedia Dallas. From 1998 - 2006 I was fortunate to be a part of the Programming team for Susquehanna Radio Dallas at the 93.3 frequency. From The Zone to Merge Radio to The Bone, it was a wild and wonderful ride. Merge Radio may have been my favorite station of the three. From 2000 to 2002 I was Midday Host and Multimedia Director for the Adult-Alternative station (great format) responsible for merging radio with the internet as one full service pop-culture portal where people would come for music, news, entertainment and more. Talk about an idea that was ahead of it's time? Merge Radio also provided the perfect outlet for my ever present interest in electronic music. Having seen it work in LA I felt electronica needed an outlet on DFW radio so I created a specialty show called subMERGE, exposing incredibly talented artists like Massive Attack, Morcheeba, DJ Shadow, Air, Groove Armada, and others.

You may wonder why electronic music? Well that's a big part of the story. In the early to mid '90s I was enthralled in club culture. I DJ'd clubs and parties throughout DFW and on Saturday nights with the help of my 100k watt blowtorch I spread the gospel as both HOST and DJ of the nationally respected mixshow Edgeclub 94 . This notoriety led to what I like to call "Techno Summer Camp", a delightful yet brief adventure on the west coast. It was summer of '96 when I packed up the family and moved to Beverly.....uh, Agoura Hills that is and settled just north of Los Angeles to begin working for my old pal Swedish Egil as Music Director and Night DJ for Groove Radio 103.1 FM Los Angeles. For nearly two years I DJ'd clubs, parties and raves in SoCal, and used my show The Nightgroove to interview every crucial electronic artist of the time: Chemical Bros, Prodigy, Daft Punk, BT, Paul Oakenfold, and others. I released two mix CD's: Platinum On Black III and Killerbeats. After 18 months the plug was pulled, Groove Radio was ahead of it's time, even for L.A.
By now you can see it's difficult to pidgeonhole me. Am I the "rock guy"?, the "dance guy"? Yes AND No. By now I think I've proven I'm just a "music guy". A true fan that got lucky and found a way to make a living doing what he loves, playing music. It's in my blood and can be traced back even further. Being an integral part of the country's first "Edge" station 94.5 KDGE The Edge from 1990 to 1996 was an experience I'll cherish forever. Working alongside talent like George Gimarc, Alex Luke and Wendy Naylor planted the seeds that continue to inspire and motivate me. I worked my way up from part time weekends to Assistant Music Director and Midday Host. Most remember the wonderfully goofy Flashback Cafe I served as "Chef K".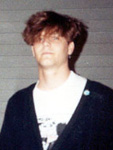 Still with me? Speaking of "Totally 80s" Those were my college days. My passion for New Wave and Modern Rock was overflowing. Needing some sort of on-air experience before I graduated I found myself inside the nurturing womb of Dallas community radio. From 1988 to 1990 I was host of an Alternative / industrial-dance show called Thud Slap on KNON 89.3 FM Remember, these were pre-Edge days and my show became the only outlet in Dallas/Ft Worth for music and interviews from artists of the day like: Nine Inch Nails, The Cure, The Smiths, Ministry, New Order, Meat Beat Manifesto, Cocteau Twins and others... great memories... except for the hair.. what was I thinking?!